WAKE UP PROTEIN GRANOLA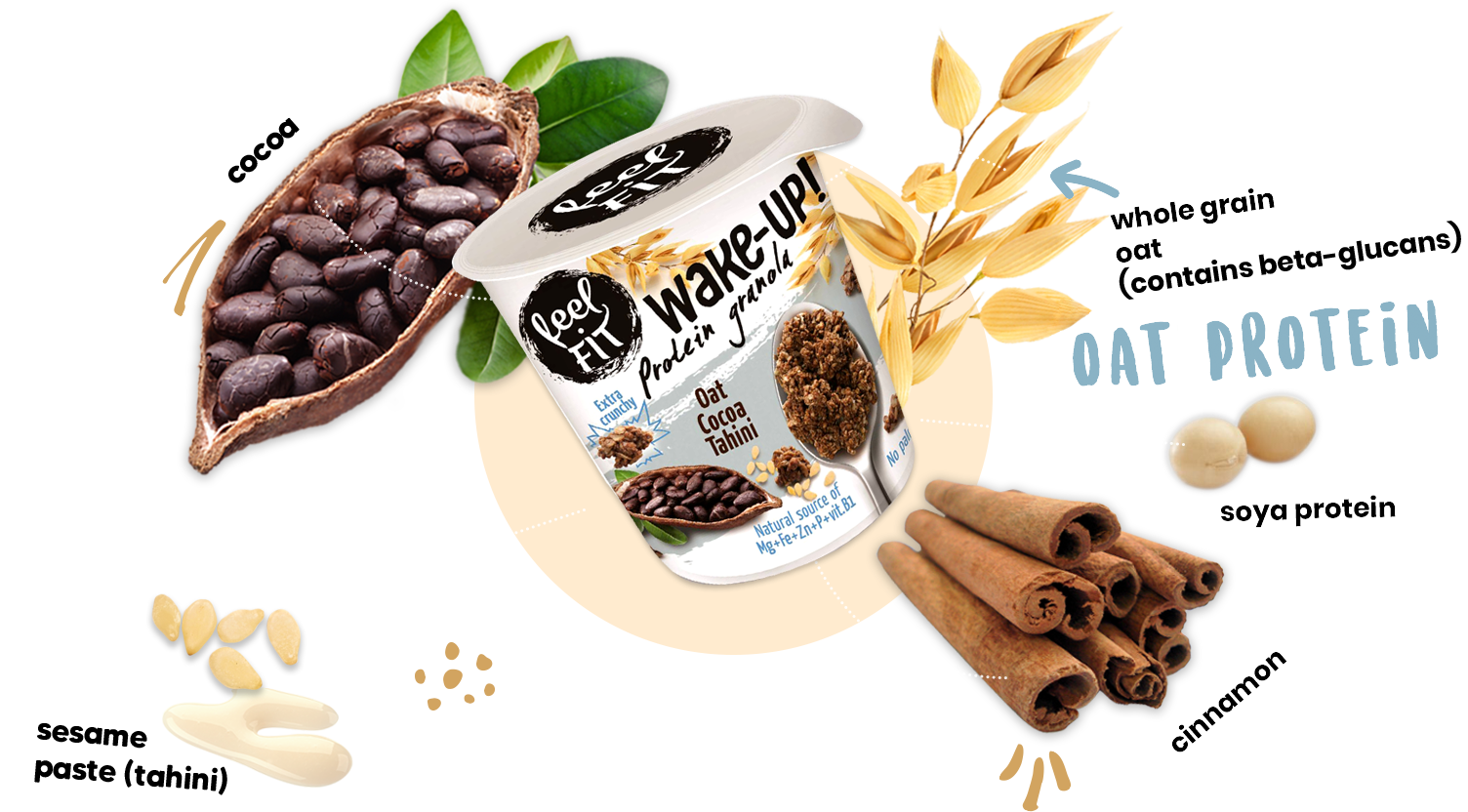 other flavours
Crunchy granola with oat flakes, cocoa and sesame paste (tahini)

Wake-Up Protein Granola with cocoa and sesame paste is an ideal product for every chocolate lover. This delicious and crunchy breakfast, rich in protein, fibre and complex carbohydrates gives you energy and keeps you feeling full for longer. Due to high-quality ingredients, especially whole grain oat, it is a natural source of magnesium, iron, zinc, phosphorus and vitamin B1. One cup meets 15%-20% of the daily intake of those important minerals and vitamin B1. You can add milk, yoghurt or eat it straight from the cup as a tasty snack!

source of protein
high-fibre
minerals
no palm oil

Health values
source of protein (1 cup contains 10g of protein)
high-fiber
no palm oil
no glucose syrup
natural source of vitamin B1, phosphorus, magnesium, iron and zinc (15%-20% of NRV – Nutrient Reference Value for adults)
Ingredients
whole grain oat flakes (57%), sugar, sunflower oil, soya protein concentrate, rice syrup powder, soya protein crispies (isolated soya protein, tapioca starch, salt), cocoa powder 1,5%, sesame paste (tahini) 1%, flavourings, antioxidants: tocopherol-rich extract, emulsifier: soya lecithin, cinnamon, salt.
Nutritional values
Nutrition facts
100 g
70 g
Energy value (kJ/kcal)
1843kJ / 439kcal
1290kJ / 307kcal
of which saturates
3,5g
2,4g
of which sugars
18,5g
12,9g