RAW NUTS
& SEEDS ENERGY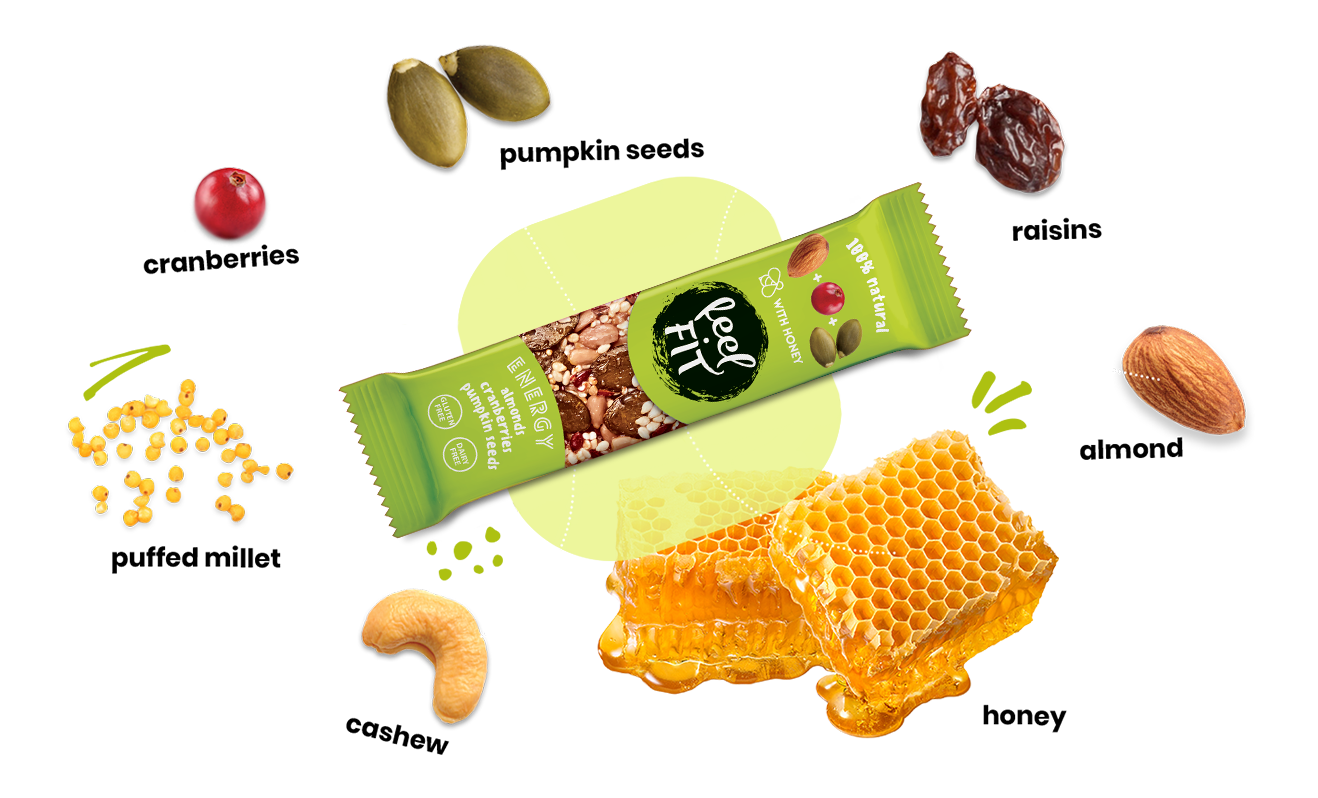 other flavours
Bar with almonds, cranberries and pumpkin seeds

This bar is intended for people who are looking for a source of immediate and healthy energy. The combination of almonds, pumpkin seeds and cranberries will make you feel much better after eating the bar and your strengths and abilities will be twice as strong. What is more, the RAW ENERGY bar has many beneficial properties for the body. Raw seeds and nuts, in the form of carefully selected pumpkin seeds and almonds, are a source of essential fatty acids (EFAs), minerals (magnesium, potassium, copper, zinc, phosphorus) and vitamins (B complex, K). Moreover, almonds are loaded with Omega 9 acids, which lower cholesterol, prevent weight gain and fight free radicals. Cranberry, on the other hand, is a true Polish superfood, which provides your body with flavonoids.


raw nuts

raw seeds

fruits

natural honey

Health values
easily absorbed and natural protein
magnesium, potassium, phosphorus, calcium
manganese, iron, copper, zinc
vitamins E, K, C and B complex
EFAs: Omega 3 and Omega 9
contains phytosterols
lifts you mood thanks to tryptophan
contains antioxidants
offers antibacterial activity
contains Polish superfood – cranberry
Ingredients
honey (24%), almonds (22%), cashews, cranberries (14%), raisins, pumpkin seeds (9%), puffed millet (9%), rice oil, thickener: agar, salt.
Nutritional values
Nutrition facts
100 g
35 g
Energy value (kJ/kcal)
1761kJ / 420kcal
616kJ / 147kcal
of which saturates
2,7g
0,9g
of which sugars
39g
13,6g
Display
Number of pieces per display: 12