NEW! PROTEIN PEANUT BUTTER PRALINES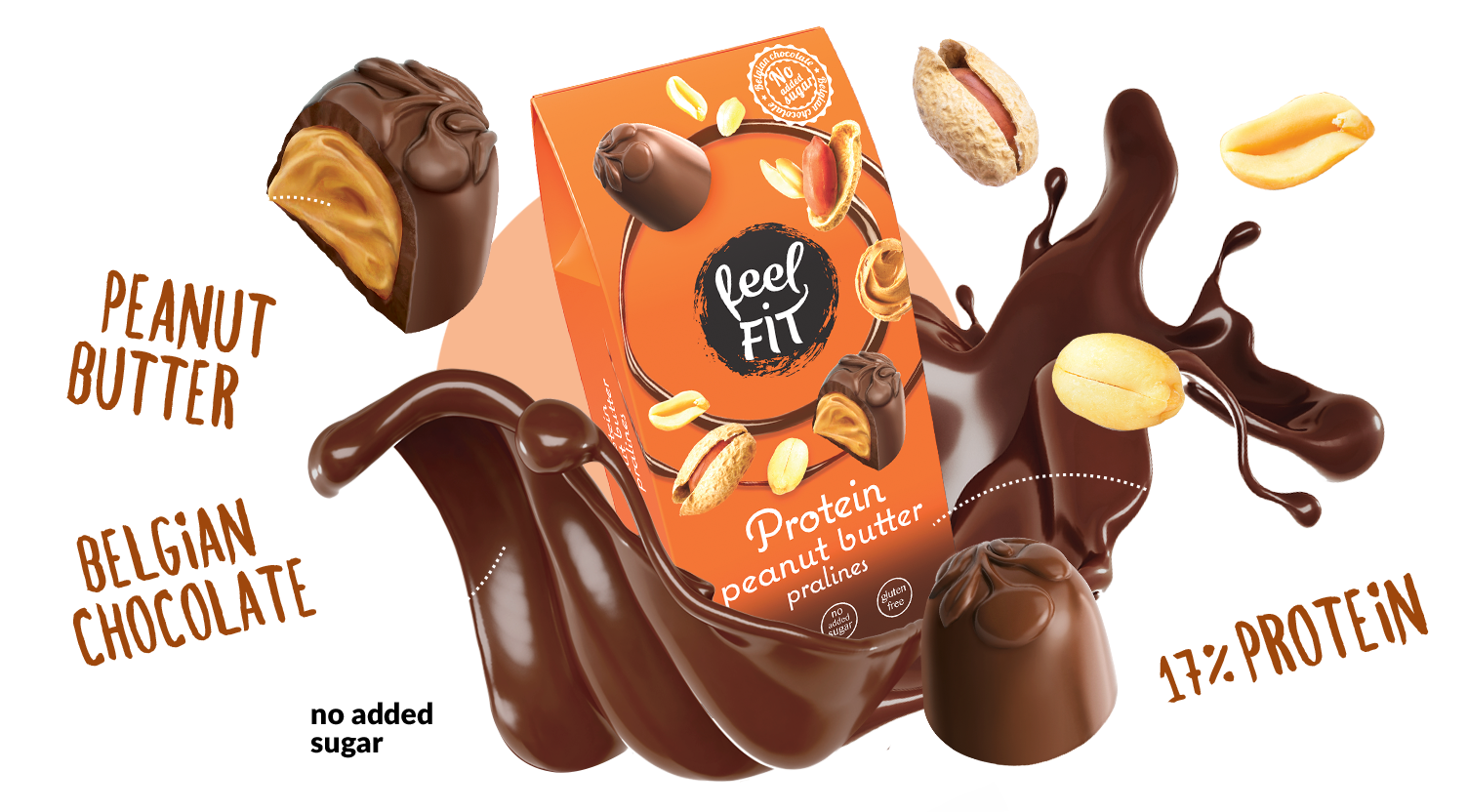 other flavours
Protein peanut butter pralines in Belgian milk chocolate, no added sugar
The unusual taste of Belgian milk chocolate with peanut butter filling with a hint of salt will delight many connoisseurs. We ensured an exceptionally delicious and natural composition, in which you will find the highest quality of Belgian chocolate with no added sugar and delicious peanut butter enriched with milk protein. In our commitment to the sustainable development of the environment, we choose UTZ chocolate with cocoa obtained from controlled crops.
17% protein
no added sugar
no trans fat
Health values
17% protein for muscle regenaration
29% of peanuts – source of vitamin B1
maltitol to lower the glycemic index and protect teeth against cavities
maltitol for reducing intake of sugars in your diet
gluten free (there is no production with gluten on the production line)
50% of high quality Belgian milk chocolate for excellent well-being and taste
Ingredients
milk chocolate 50% [sweetener: maltitol, cocoa butter, whole milk powder, cocoa mass, emulsifier: lecithin (from soya), natural vanilla flavour], peanuts  29%, milk protein concentrate, non-hydrogenated vegetable fat (palm kernel), whole milk powder, sweetener: maltitol, emulsifier: lecithin (from soy), salt. Milk chocolate: cocoa solids min. 33,9%, milk solids min. 20,5%.
Nutritional values
Nutrition declaration
100 g
11 g (per 1 chocolate)
Energy value
2214 kJ / 534 kcal
244 kJ / 59 kcal
of which saturates:
17 g
1,87 g
of which sugars
6 g
0,66 g
of which polyols
21 g
2,31 g