Protein choco & peanut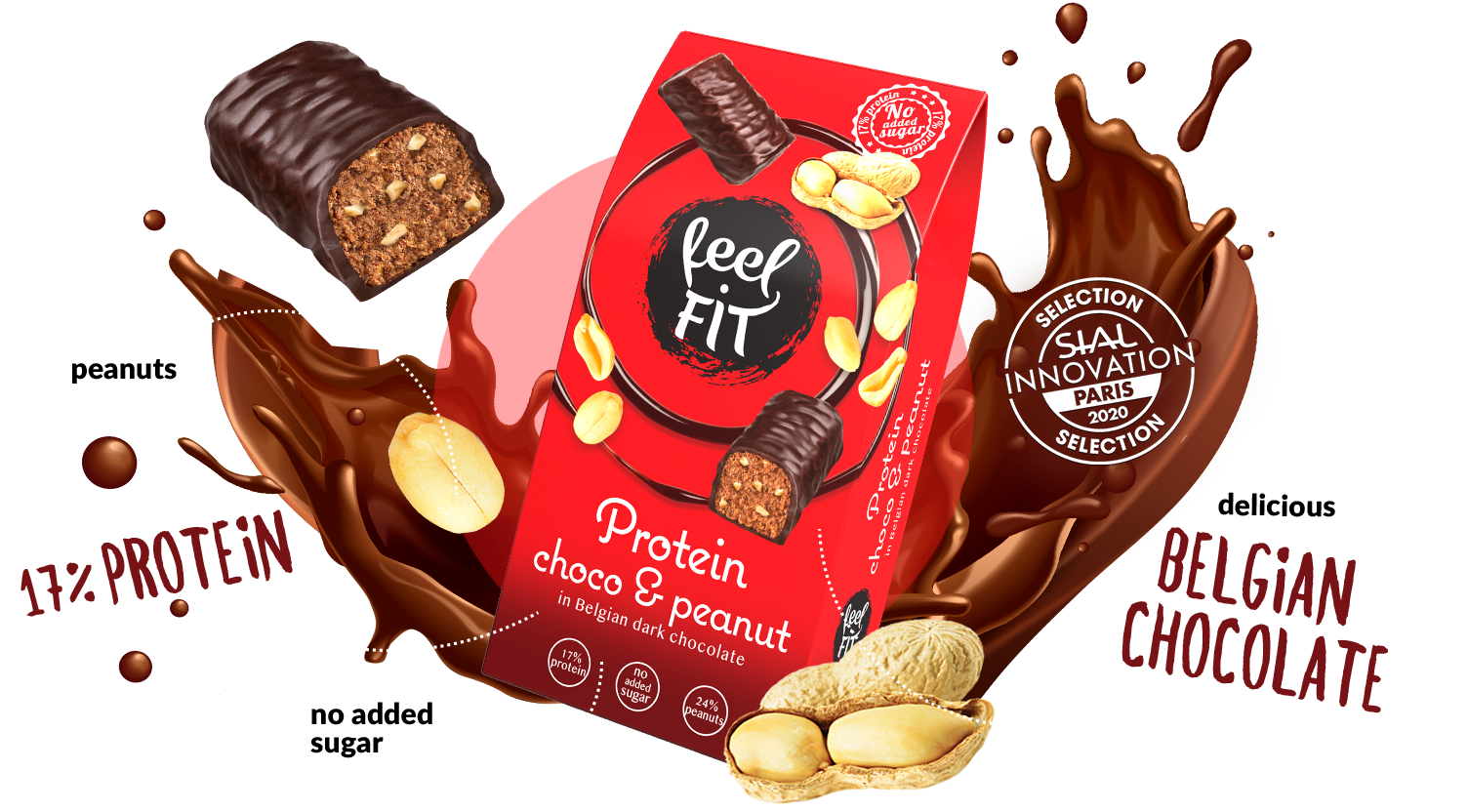 other flavours
Protein chocolates with peanuts, no added sugar
Protein choco & nut are protein chocolates coated in Belgian dark chocolate with a strongly nutty filling (24% of peanuts). The nutty delicacies combine great flavour with functional qualities. They contain 17% of protein, they are no added sugar and gluten free. Belgian UTZ-certified chocolate was used for their production, which means that cocoa comes from crops that are cultivated in a responsible and sustainable manner, and obtaining the raw material has no negative impact on the natural environment and the situation of people employed in its production.
17% protein
no added sugar
no trans fat
Health values
17% protein for muscle regenaration
24% of peanuts – source of vitamin B1
25% of dark chocolate rich in flavonoids
maltitol to lower the glycemic index and protect teeth against cavities
maltitol for reducing intake of sugars in your diet
gluten free (there is no production with gluten on the production line)
Ingredients
dark chocolate 25% [cocoa mass, sweetener: maltitol, cocoa butter, emulsifier: lecithin (from soya), natural vanilla flavour], peanuts  24%, non-hydrogenated vegetable fats (palm kernel, shea), skimmed milk powder, milk protein concentrate 5%, sweetener: maltitol, cocoa powder with reduced fat content, cocoa fibre, corn crisp, emulsifier: lecithin (from soy), natural flavours. Chocolate: cocoa solids min. 54%.
Nutritional values
nutritional value
100 g
11 g (per 1 chocolate)
nutritional value
2157 kJ/519 kcal
237 kJ/ 57 kcal
of which saturates:
15 g
1,65 g
of which sugars
10 g
1,1 g
of which polyols
16 g
1,8 g