Veganela Cocoa-Hazelnut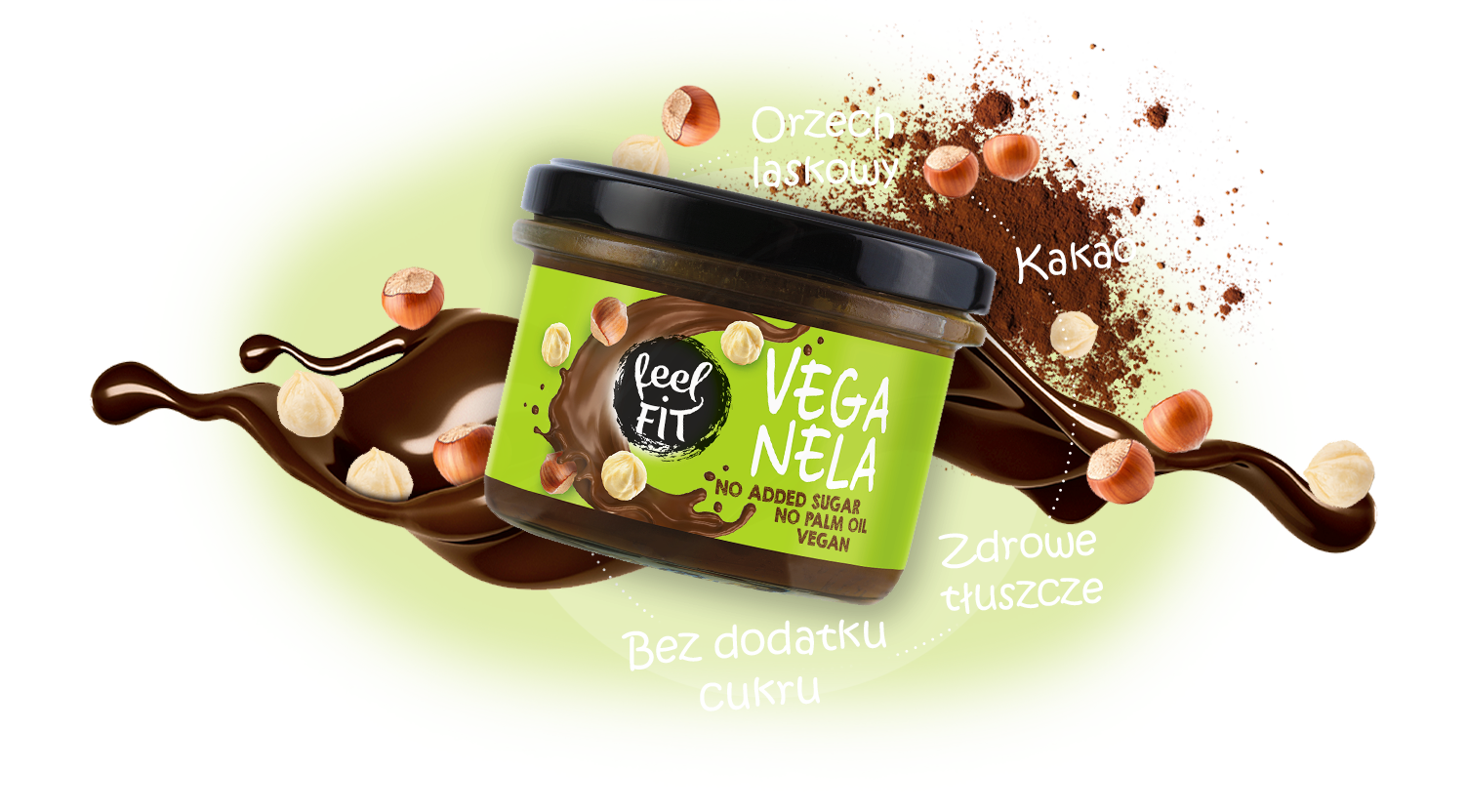 Vegan cream with hazelnuts and cocoa.
No added sugar and no palm oil.
Delicious nut SPREAD, no remorse.

Vegans were asking us for such cream and we have prepared a sugar-free and dairy-free spread for them. We are proud of its taste and smooth, spreadable texture. Our hazelnut cream is suitable for bread, pancakes, waffles, various homemade cakes, for example as a cheesecake filling or as a filling for croissants or donuts.
VEGANELA is made without added sugar and always offers an unrivaled taste. Instead of white sugar, we use maltitol for sweetening. Maltitol comes mainly from corn (non-GMO) and has the following properties:
- has a low impact on blood sugar levels and a low glycemic index
- maltitol contains about 40% less calories compared to table sugar
- has a sweet taste very similar to sugar.
Maltitol is not metabolized by bacteria in the oral cavity, thus preventing the development of caries. The use of maltitol leads to a reduction in sugar levels and thus can contribute to a balanced diet. Of course, a healthy lifestyle also includes physical activity. Also, be aware that excessive consumption of maltitol can have a laxative effect in some people.

palm oil free

sugar free

vegan
Health values
shea and rapeseed oil as a source of phytosterols
maltitol does not cause tooth decay
malitol has fewer calories and a lower glycemic index
no added sugar = eliminating simple sugars
answers for the Keto diet
10% hazelnuts
a healthy alternative to Nutella
Ingredients
Sweetener: maltitol, vegetable fat (shea), low-fat cocoa powder 11%, hazelnuts 8%, vegetable oil (rapeseed), emulsifier: lecithin (sunflower), aromas. May contain other nuts, milk, soy and cereals containing gluten.
Nutritional values
Nutrition declaration
100 g
Energy value
2147 kj/ 519 kcal