WAKE UP PROTEIN GRANOLA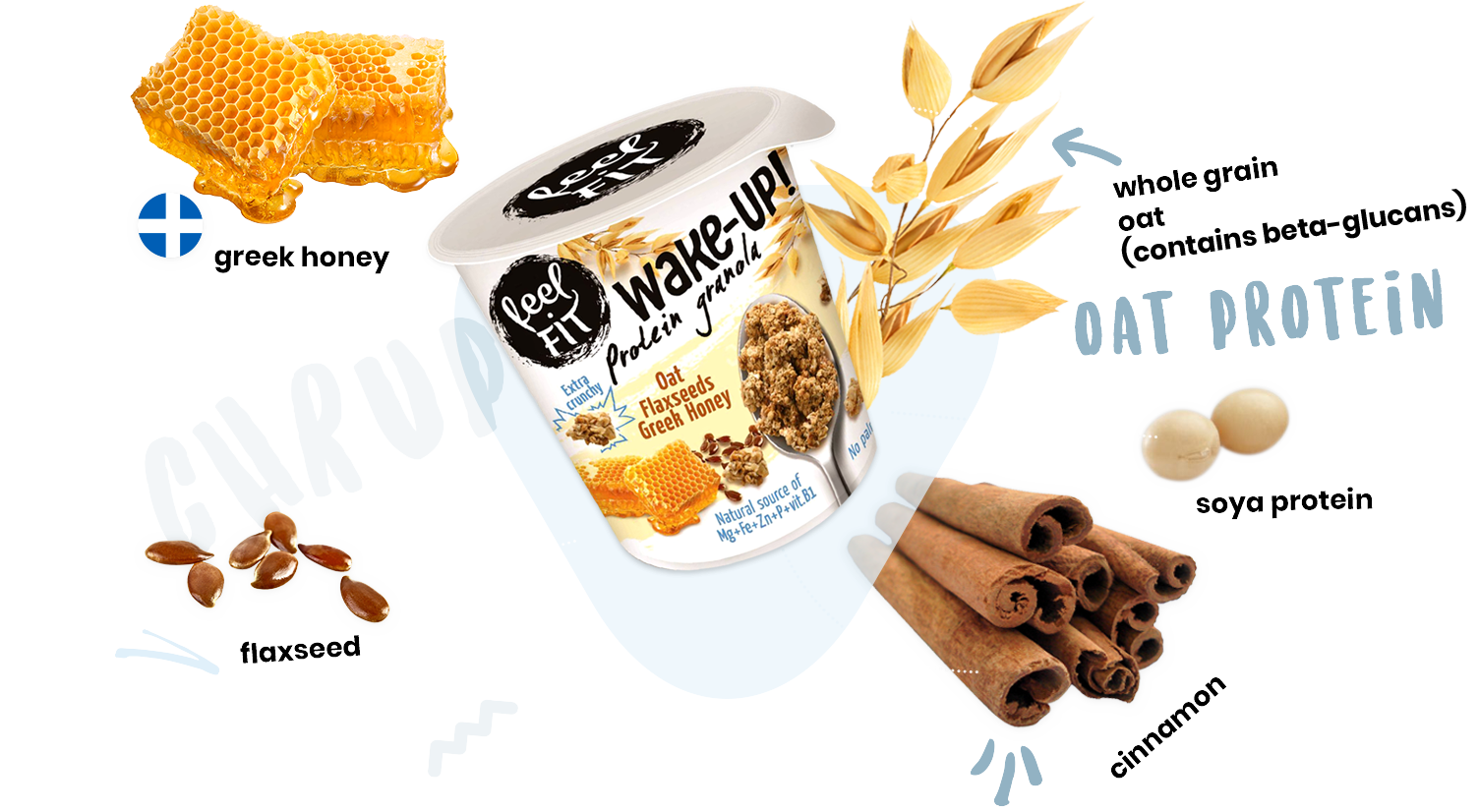 other flavours
Crunchy granola with oat flakes, Greek honey and flaxseeds

Wake-Up Protein Granola with Greek honey and flaxseeds is based on a traditional Greek recipe thanks to which our granola is well-baked and its clusters are extremely crunchy. It is not only tasty, but also rich in wholesome ingredients beneficially affecting your health. It doesn't contain palm oil. One cup provides 15-20% of daily intake of such minerals as magnesium, iron, zinc, phosphorus and vitamin B1. Moreover, Wake-Up Protein granola contains beta-glucans, which lower your cholesterol*. With its rich content of protein and fibre our granola boosts your energy and keeps you feeling full for longer.


source of protein
high-fibre
minerals
no palm oil
Health values
source of protein (1 cup contains 10g of protein)
high-fiber
natural source of vitamin B1, phosphorus, magnesium, iron and zinc (15%-20% of NRV – Nutrient Reference Value for adults)
no palm oil
contains beat-glucans, which lower your cholesterol*
* Beta-glucan is a soluble fibre made from oats which has been shown to reduce blood cholesterol. The beneficial effect is obtained with a daily intake of 3g of beta-glucans from oat (2 cups) in combination with a varied, balanced diet and a healthy lifestyle. High cholesterol is one of the risk factors that increase the probability of developing coronary heart disease.
Ingredients
whole grain oat flakes (57%), sugar, sunflower oil, soya protein concentrate, rice syrup in powder, soya protein crisps (isolated soya protein, tapioca starch salt), honey 1,5%, flaxseeds 1%, oat fibre (contains beta-glucans) 1,5%, flavourings, antioxidants: tocopherol-rich extract, emulsifier: soya lecithin, cinnamon, salt.
Nutritional values
Nutrition facts
100 g
70 g
Energy value (kJ/kcal)
1832kJ / 436kcal
1282kJ / 305kcal
of which saturates
3,4g
2,4g
of which sugars
18,3g
12,8g